The Archbishop's Palace of Cebu, known simply as the Archbishop's residence, is the official residence and principal workplace of the archbishop of Cebu. Set on a beautifully manicured lawn, it is actually a complex of two buildings that is made up of the original L-shaped building and a smaller annex building which was originally intended as a retirement home for Julio Cardinal Rosales, the archbishop of Cebu from 1949 to 1981 who oversaw the construction of the complex during his incumbency.
The old building was designed by Architect Julio Ancheta and was built in 1953. The smaller annex building now contains the actual office and residence of the current archbishop of Cebu while the old building contains various guest rooms, offices, function halls, and a large chapel.

One of the "many" dining rooms.
The current residence was built in 1953 to replace the Spanish-era residence which was then located right across the cathedral. The Spanish-era residence was a typical bahay-na-bato structure albeit oversized, a bipartite residence of stones in the first level and wood in the second. Its roof was tejado, or of clay tiles but was replaced with galvanized-iron sheets in keeping with government regulations.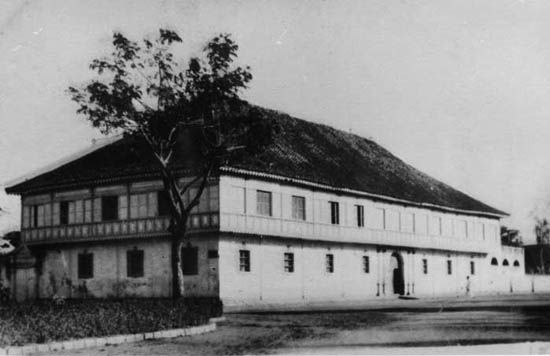 The 19th-century episcopal palace which was once located across the cathedral.
During the USAFFE aerial bombings prior to the liberation of Cebu, the old episcopal residence was hit by a bomb and gutted down. Another ecclesiastical building, the Patria de Cebu, stands on its very site today.

Another view of the exterior.
The present-day residence is located in a sprawling compound behind the Sacred Heart Parish Church along D. Jakosalem street. Its architecture bears influences of Beaux-Arts and is quite typical of circa-1950s mansions throughout the Philippines.
Blessed Pope John Paul II was a guest in this house during his 5-day visit to the Philippines in 1981 which included an overnight stay in Cebu city.
Below: Circa 1950s photos of the interior of the present-day residence.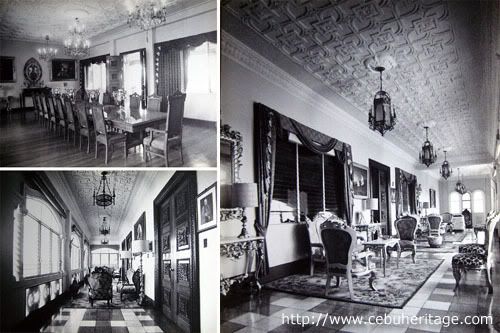 Leave a Reply