The main facade of the church.
Naga was originally a visita of San Nicolas. It was erected as an independent parish on June 12, 1829 under the advocation of Saint Francis of Assisi. A plan for the church was executed by Bishop Santos Gomez Marañon and built by Father Simon Aguirre in 1850. A rectory of stone was built by Father Enrique Magaz who was parish priest from 1857 to 1864. In November 25, 1876 a typhoon damaged the belfry although it was repaired later on. Towards the end of World War II, the church was damaged by American bombing runs while the belfry and the rectory were totally destroyed. A different belfry was later built by Monsignor Cesar Alcoseba in 1979 while a new rectory was built in the mid-1970s by Father Arturo Tecson.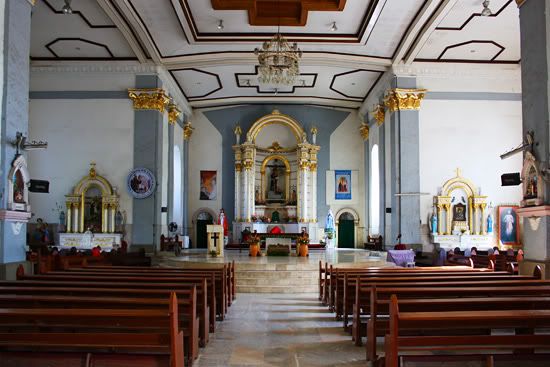 The post-war pre-Vatican II altars of the church are relatively intact.
The church is a single-nave cruciform structure that stands along the highway facing the old municipal hall and town plaza. Much of the interior is already modern although the original façade has been retained except for its rectangular pediment which was originally triangular. This facade is the church's central attraction, the only one in Cebu that is so heavily embellished with motifs and symbols in bas-relief uniquely combining Islamic and indigenous Central American or Mexican influences called tequitequi. Right above the main entrance, at the center of the façade, is a low relief depicting the first Holy Mass in the country. Surrounding it is inscribed the year 1521 and the Latin words Praedicate Evangelium Creaturae, which when loosely translated means "Preach the gospel to every creature."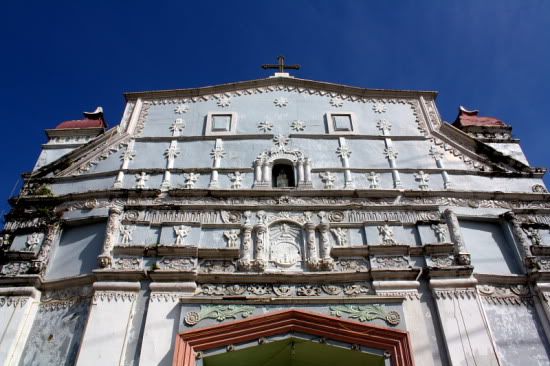 Details of the pediment.

Details of the embellishments.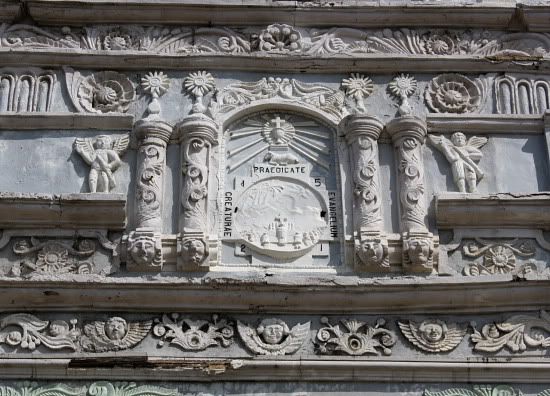 A relief depicting the first mass.
Buttresses that are capped with minaret-shaped domes support all four sides of the church. A contemporary belfry whose design is totally incongruous to that of the church stands freely beside it. Right behind near the rectory, is a huge statue of Saint Francis of Assisi lording over the parking area.
There are a total of five altar retablos inside the church with each retablo containing a statue of a particular devotion. The main altar retablo is a large neo-classical structure with an arched baldachin and contains the statue of Saint Francis of Assisi embracing the Crucified Christ. Two of the side altar retablos still have their own tabernacles, a remnant of pre-Vatican II liturgy. (ACFS)
One Response to "San Francisco de Asís (Naga)"
#

San Francisco de Asís of Naga (Cebu) « With one's past…

on 03 Mar 2011 at 4:34 pm

[…] For a better look at the what the facade looks like up close [my handy digicam could not take a better shot] please visit a fellow blogger's article about the church [here]. […]
Leave a Reply